Ref. No. 5669: Sale of a luxury two-storey house in the village of Dimchevo, only 12 km from the sea, 15 km from the city of Burgas and 1 km from the dam Mandra. Dimchevo , Burgas property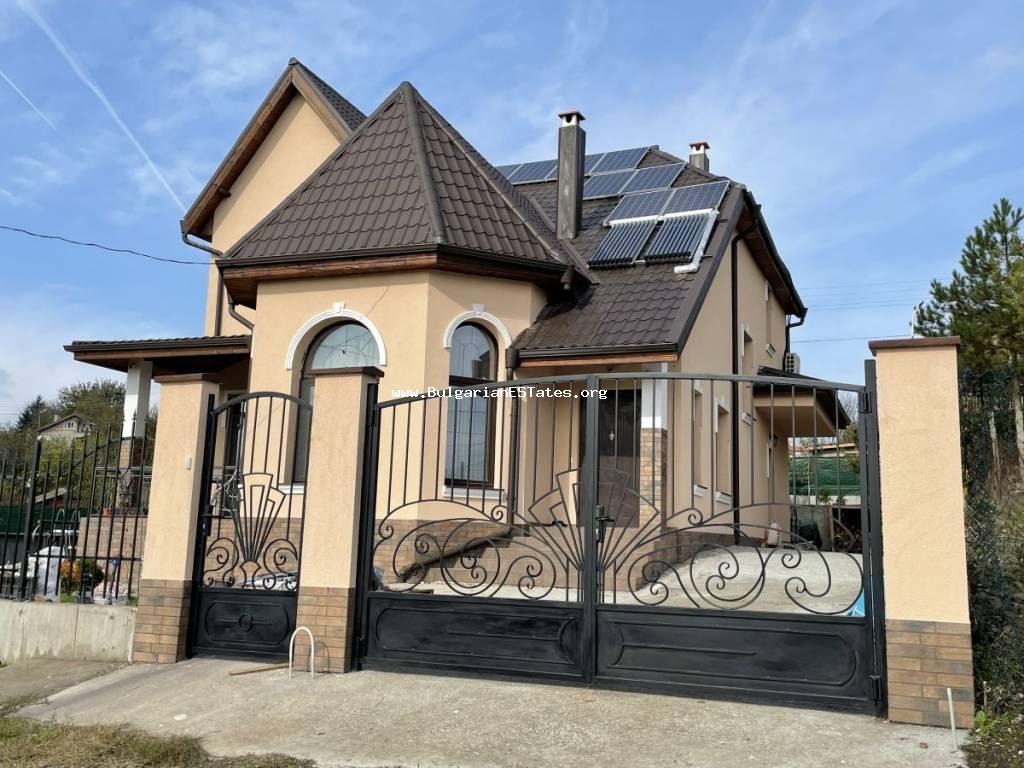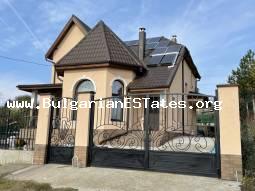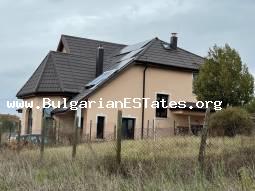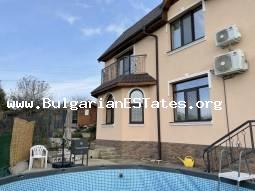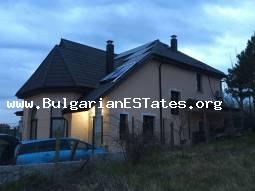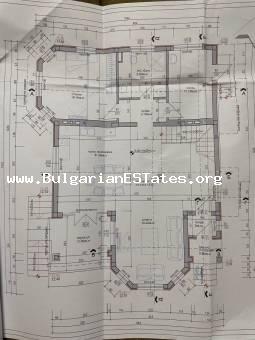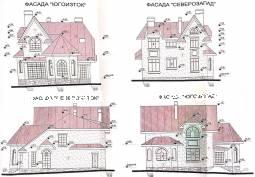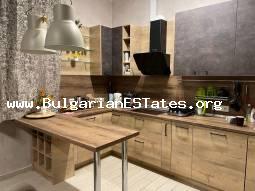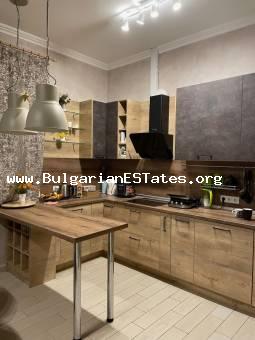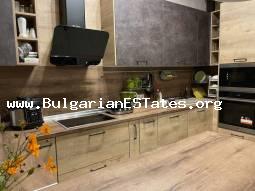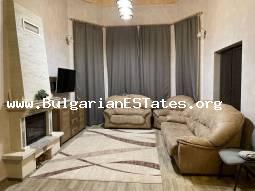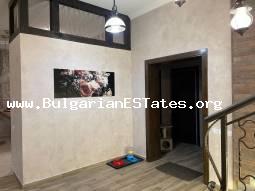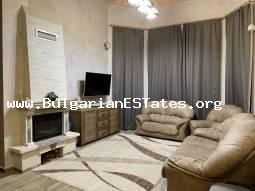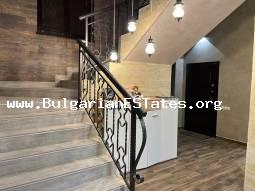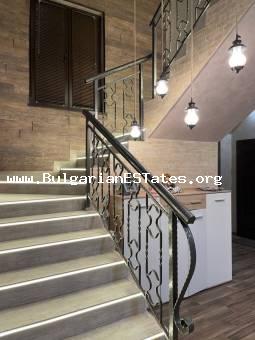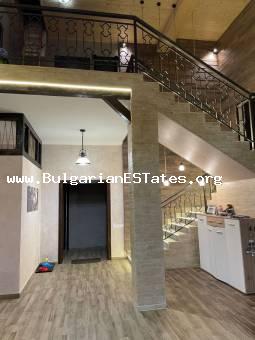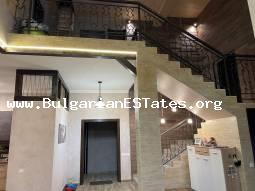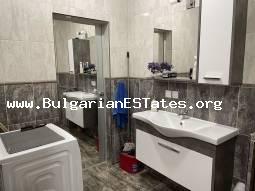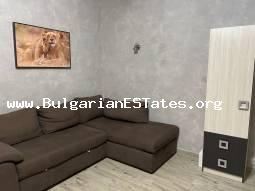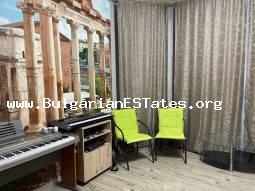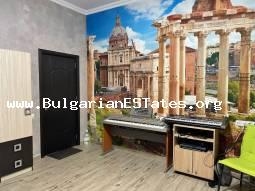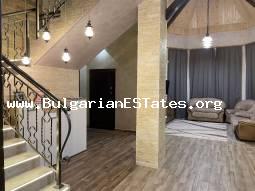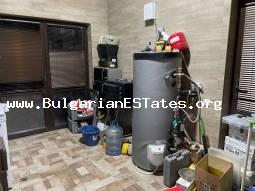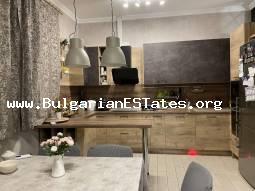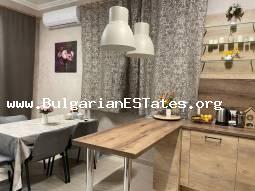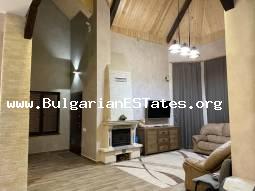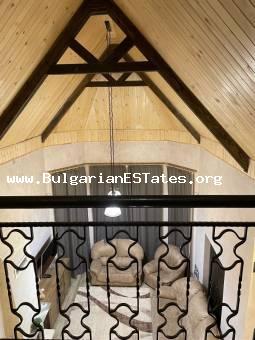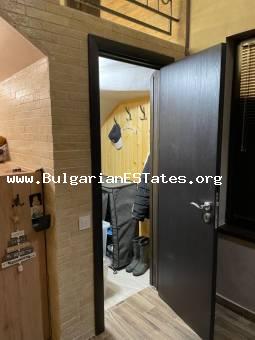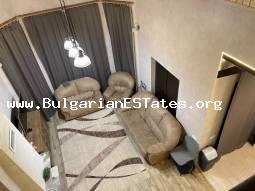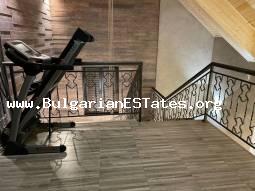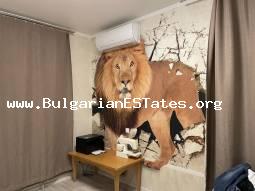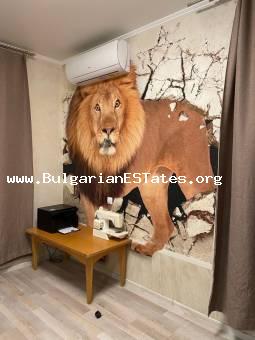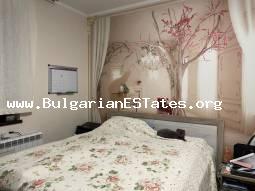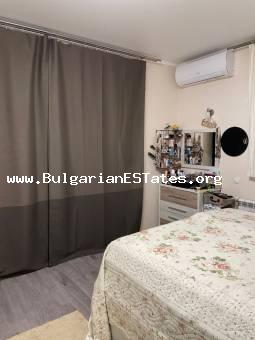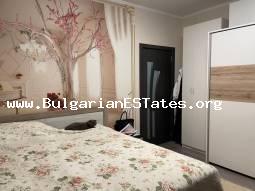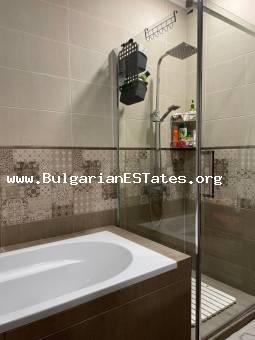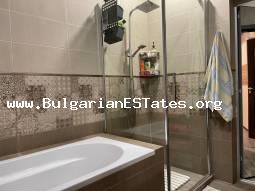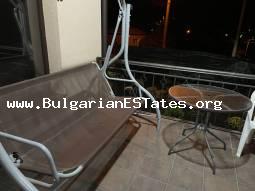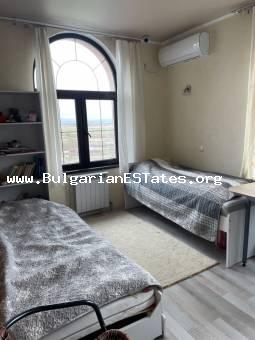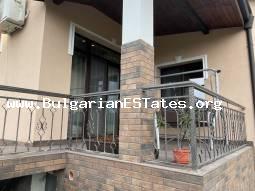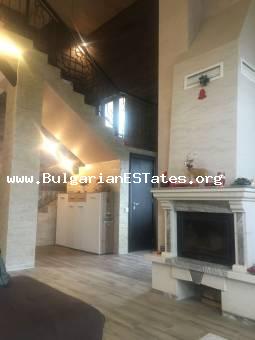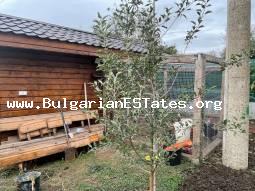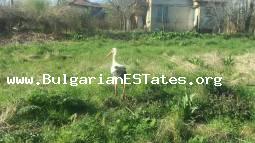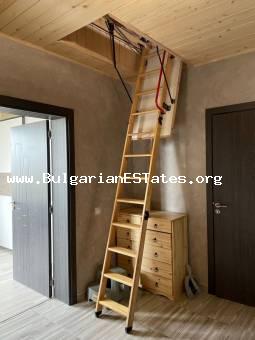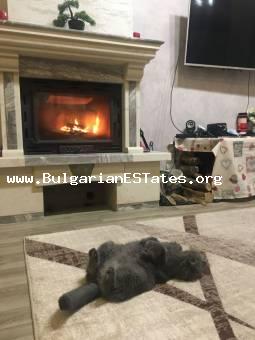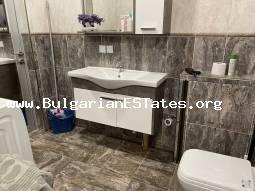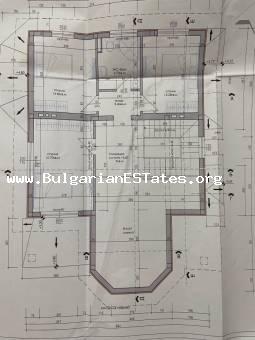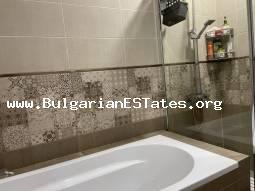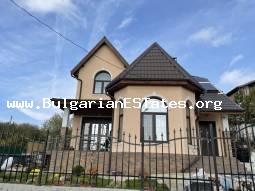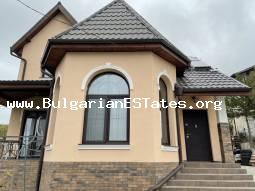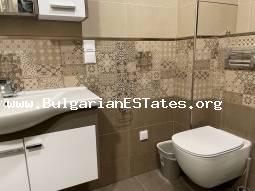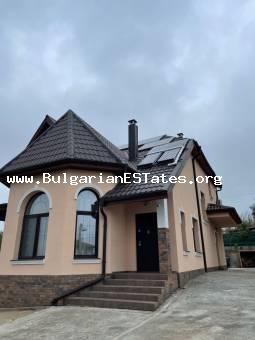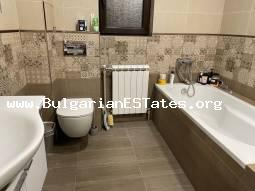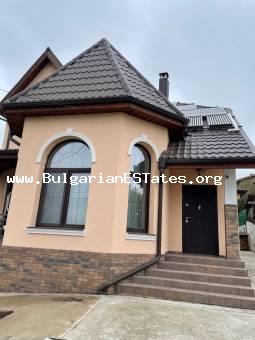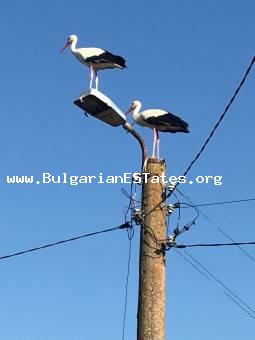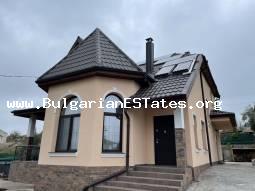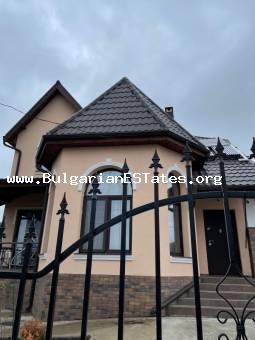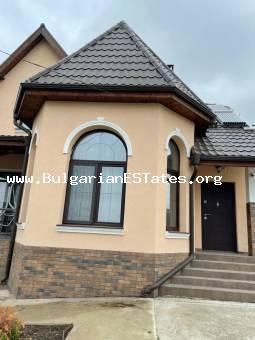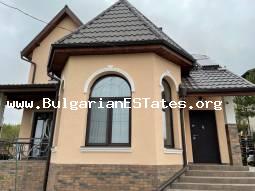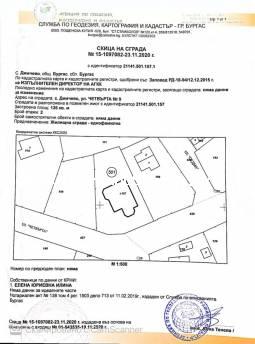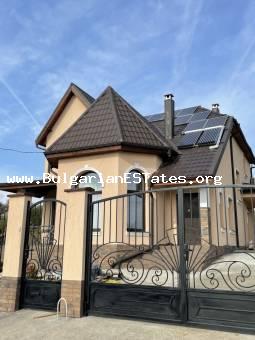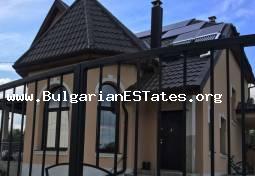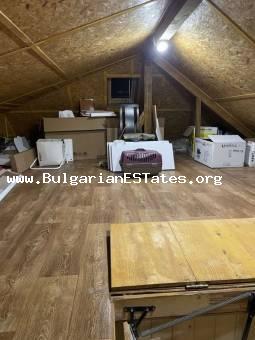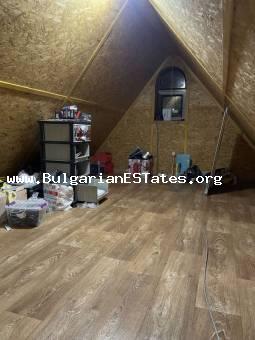 Key Features
€ 282,000
Ref. No.:
5669
Deal type:
For sale
District:
Burgas property
Town / Village:
Dimchevo
In categories:
House
Living area:
257.00 sq. m.
Yard:
596.00 sq. m.
Bedrooms:
4
Bathrooms:
2
Floors:
3
Add to bookmarks
Bookmarked

Map location
Full Description
Luxury house for sale 12 km from the sea and Burgas, Bulgaria!
Lovely two-storey house of 257 m2 in the picturesque village of Dimchevo, built in 2021. Operation permission Act 16. The property has a total of four bedrooms, two bathrooms. Plot 596 m2. The finishing works are made of quality materials according to European standards and with high quality external thermal insulation. In addition, there is a large attic room and a basement, an extension.
Photovoltaic panels covering the needs of the whole house in addition to urban electricity, solar panels for hot water, registered own water source to power the house in addition to urban water.
You can expect complete autonomy.
High-speed internet and video surveillance system outside and inside the house with access from anywhere in the world.
A quiet place, 15 minutes from the sea by car, to the Mandren Lake and the forest for lovers of fishing and hunting, 10 minutes from the city, the location is a protected area with very rare birds.
Fresh air, lots of storks, which speaks to ecology. Beautiful nature, lake, nature reserve. The village is a preferred place for investment.
* Reliable base and reinforced concrete frame
* Warm brick walls
* Thermal insulation throughout the house
* Parking for two cars
* Central electricity and water supply.
* Solar panels that provide constant water heating
* Photovoltaic panels and 5 enclosures that continuously operate, saving urban electricity, rechargeable batteries for backup use.
* Own registered water source
* Internet and video surveillance system outside and inside the House
* Pipes for underfloor heating on the ground floor and radiators on the first floor
* Fruit trees, conifers and flowers in the green area of the site.
* Auxiliary premises (technical room, chicken coop, basement, attic)
* Prefabricated pool 22 sq.m. with sand filter
If you dream of changing the frenzied rhythm of city life for the ecological place, then you have found it.
The finished house is waiting for you!
Ground floor
• kitchen 31,6 sq.m., fully equipped with household appliances (hob, oven, dishwasher, microwave, refrigerator)
* Hall 35,6 sq.m. with natural stone fireplace and high arch finished with wood,
* guest bedroom 18,15 sq.m. with a separate exit to the courtyard,
* entrance hall 3 sq.m. the central entrance,
* Entrance 2 sq.m.
* boiler and pumping room 11.15 m2 with inverter, 300 L boiler, pumping and filtration equipment for own water source,
* 8 sq.m. bathroom with shower and washing machine.
* veranda 10.8 sq.m. with panoramic view
From the living room there is access to the terrace and the yard and the pool.

FIRST FLOOR
* Empore (Platform) 9 sq.m. with a view to the ground floor,
* Bedroom 17 sq.m. with panoramic views of the hilly mountains,
* Bedroom 15 sq.m. with a view of the lake and the church, with terrace 52
* Bedroom 13 sq.m. overlooking the courtyard,
* Bathroom 7 sq.m. shower and bath, bathroom
Additionally
* Loft 42 sq.m. with insulation,
* Basement 9 sq.m. for storage of conservation and household equipment,
* Household building of 8 sq.m. from natural wood, including a chicken coop with a fenced area for walking chickens.
* Pool with diameter 5 m, prefabricated frame 22 sq.m. with a sand filter.
* Probe 50 m own water source,
* Septic tank 30 m3
The total area of the house together with terraces is 257 sq.m.
Additional premises 59 m2.
The land area is 595 sq.m.
The price includes all equipment and household appliances.


Facilities

cafe

telephone

poste

internet
Location:
Near the Sea
,
In hunting area
,
On river
,
Near lake
,
In fishing area
,
Near mountain
,
In rural countryside
,
Ecological region